Frequently Asked Questions
Battery
How long is the Afidus ATL-200 battery life?
---
The factory specifications state 45 days at a one minute capture interval, 80 days at five minute interval (8 hours a day). In our testing this has been proven very accurate. You can achieve longer run times using Energizer Ultimate Lithium AA batteries.
At a capture a minute, during working hours we like to check our cameras monthly. It's better to be safe than sorry by checking the cameras more often. We have seen cameras knocked down, painted over, obscured and covered with protective plastic.

A new set of four AA batteries is around 6.5 volts, the camera requires 3.8 volts or above for the Wi-Fi to function. Batteries which have tested "good" or "ok" may not have enough power to maintain a Wi-Fi connection. We always recommend using new batteries and we change them when the battery indicator within the app starts to dip.

Extreme Testing Scenarios Running Energizer Ultimate Lithium batteries with a capture every minute, 12 hours a day we had a camera survive the polar vortex running for 50 days non-stop. During this period the temperature fluctuation was -40 to +40F. Cold weather greatly affects battery life, standard AA batteries start losing power at around 30F. With temperatures below 30F we recommend lithium batteries and check our cameras more frequently. When the temperature dips below 0F we try to check our cameras after an extreme cold snap. With Energizer Max alkaline batteries we did a two week project with a capture every 30 seconds, 12 hours a day. After, the batteries hadn't even dipped below 5.4 volts. Using a 128gb card we had a camera run for 20 days, recording 14 hours each day at a 10 second interval and the batteries were running low.
---
What brand of batteries do you recommend?
---
The cameras ship from us with four AA batteries installed. For project success, we always recommend new brand name batteries. The camera requires 3.8 volts to maintain a Wi-Fi connection. A set of four new batteries is around 6.5 volts. If your batteries test "ok" or "good" please consider setting them aside for the TV remote. Energizer Ultimate Lithium batteries provide longer run time and maintain a charge when the temperature dips. They cost more, but provide better performance, especially if the temperature is sub-zero to 30F. The only catch with lithium batteries is the steep power curve, they are either good or dead, there is little mid-range and they may fail without warning. However, the failure point is longer than standard alkaline batteries. We have also been testing Energizer Max alkaline batteries which seem to provide better run times. We will report back after more rigorous testing. We don't recommend discount or rechargeable batteries. Purchase new batteries from a store who would have a decent turnover, if you have to dust off the package shop somewhere else for your critical power supply.
---
The battery cartridge orientation sticker fell off, how does the cartridge fit in the camera?
---
Look in the camera's battery compartment and notice the two terminals. The battery cartridge has two stacked terminals which are flush with the plastic. These two terminals must match up with the camera terminals.
---
Is the camera weatherproof?
---
The camera is weatherproof without the need for an additional housing. The rating is IP65, which means it is dust tight and can withstand rain from any direction.
---
What are the external power requirements?
---
Micro-USB 5 Volts / 1.5 Amps. Any micro-USB phone charger or wall adapter should work. However, we see little reason to use external power. The camera is capable of extremely long run times and external factors are more likely than premature battery failure. We have seen cameras moved, painted over, knocked from their mounting location, etc. It is better to be safe than sorry and check your camera when convenient.
---
How is the camera's cold weather performance?
---
Running Energizer Ultimate Lithium batteries with a capture every minute, 12 hours a day we had a camera survive the polar vortex running for 50 days non-stop. During this period the temperature fluctuation was -40 to +40F. Cold weather greatly affects battery life, standard AA batteries start losing power at around 30F. With temperatures below 30F we recommend lithium batteries and check our cameras more frequently. When the temperature dips below 0F we try to check our cameras after an extreme cold snap.

The manufacturer specifications are -4F - 122F (20C - 50C). We like to base all of our testing on real world examples.
---
Is there a way to connect the cameras to an AC power source rather than batteries, or in addition to batteries?
---
You can use a power source, most micro-USB charger will work, however, the cam will NOT be weatherproof. We typically don't recommend external power as it's better to check your cameras occasionally than to leave them for an extended duration. Anything could happen when the camera is left unattended and power is typically the least of our concern.
---
---
Firmware and Wi-Fi
I forgot my custom Wi-Fi password, how do I reset it without having access to the app?
---
Have the a micro-USB cable handy... Step 1: Remove the batteries and SD card.
Step 2: Press the power button continuously.
Step 3: While holding the power button, plug in external power (micro-USB).
Step 4: The camera will begin beeping and the LED will flash, wait until beeping and flash stop
Step 5: The reset is complete, you will need to forget the existing camera network from your mobile settings and the default password will work (12345678) Step 6: Once you launch the app, you will be asked to change the password, make the change Step 7: Forget the network again and enter the new password After performing a reset, make sure you double check all of your settings by tapping the (i) info button. Quality, HDR and other configuration options will also have reverted to the factory default. We recommend changnig the Quality to +4, HDR is High and Time Stamp is off.
---
My camera is recording, but I can't access the Wi-Fi.
---
If you are actively recording and the green LED is flashing every five seconds, you must stop the recording to turn on the Wi-Fi. Press and hold the power button until the camera beeps and you have a solid green LED, now you camera's Wi-Fi is active.

If you still can't connect to Wi-Fi, the battery level is likely low.
---
I can't connect to the camera's Wi-Fi or my Wi-Fi keeps disconnecting.
---
Battery levels are a common reason for Wi-Fi connection issues. The camera requires 3.8 Volts to establish and maintain a connection. When there are many networks available maintining a connection may be challenging. Put you phone into Airplane mode before connecting to the camera's Wi-Fi. Airplane mode typically always improves connection stability.
---
How do I update my camera's firmware?
---
The process is very easy. If you see an update notification switch to your local network Wi-Fi or turn off the camera. Tap on the firmware icon on the first app screen and download the firmware to your device. Reconnect to your camera and tap the fly-out menu and the FW Upgrade button will load the firmware onto your camera. After two series of beeps, reconnect your camera and you'll be set with new features.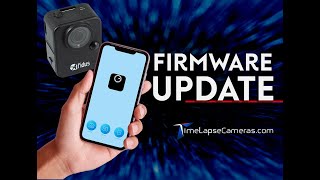 ---
What is the current firmware?
---
As of January, 2022 the firmware for the new ATL-200S/201S is models is 4950 The current firmware is 4374 for ATL-200/201 models. Afidus contiues to update the firmware in immediate response to iOS software updates. We thank you for all who provide feedback directly us so that we can continue to make a better product. This video walks you through step-by step on the process. While this video was created in February for an older firmware the process remains the same. Afidus recommends doing this process either connected directly to a power source with the manufacturer supplied USB power cord or a fresh set of brand new name brand batteries. In the event you have upgraded your iOS devise and you may have Wi-fi connection Apple recommends removing the app and reinstalling it.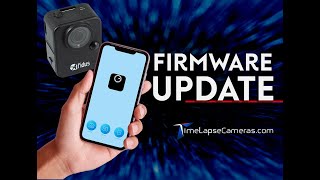 ---
---
App questions
What is the default app password?
---
Afidus Cameras shipped from direct from TimeLapseCameras have a new password set to 87654321. If cameras were shipped from anyother vendor the manufacturer password is, 12345678.
---
Where do I download the Afidus Time-Lapse Camera App?
---
IOS users may download it at: https://apps.apple.com/tr/app/time-lapse-afidus/id1268938155
If you are using Andoid, download it at: https://play.google.com/store/apps/details?id=com.afidus.app&hl=en_US
---
Can you control the camera from a laptop?
---
At this time, you can not control the camera from a computer, it must be done from the Afidus Time Lapse app on your IOS or Android phone.
---
What does Custom Day do?
---
Custom Day comes in handy if you had a week long project, but couldn't return to the camera for a month. You could set seven days and the camera would stop recording after a week, eliminating all of the additional files.

---
My camera wont connect to Wi-Fi or my App stalls.
---
For a stalled app. Simply close the App and start it up. This refreshes it We recommend always starting with a fresh set of brand name batteries; Energizer Max, Duracell Optimum, or Engerizer Lithium. Establishing a Wi-Fi connection takes a good bit of power from the initial set-up. Afidus has been very proactive with Firmware updates following any iOS updates. At times, we have observed deleting the app, reinstalling it helps with estatablishing a wi-fi connection helps. Another solution: If your camera won't connect to the Wi-Fi from your mobile device please select :
Settings > Camera> and "forget" the existing Wi-Fi connection in your Wi-Fi settings then please try again. Since October of 2019, Cameras shipped from TimeLapseCameras have their password set to 87654321. If you did not purchase your camera from TimeLapseCameras, try the manufacturer deflat password 12345678. You will be prompted to change to a password of your choice.
---
How come my files are not Splitting by Date?
---
The Split File by Date is a new feature found only within the Afidus ATL-200S/201S camera lineup. By far, this is one of our favorite features in this newer system. Typically the .Mp4 video files are saved with a file size limit up to 537 MB in size. With Split File by Date selected ON from the settings menu your files will be separated into a daily files up to that file size.
---
---
Recording
How do I know if my camera is recording?
---
Using the app; after you have confirmed your settings, selected record and then OK. You will hear two audible beeps. This is the first confirmation your camera is recording. At this time, please watch for a green LED at the top of the camera to blink approximately every five seconds. Here is the section of our app overview video which covers starting the recording, The recording section starts at 07:18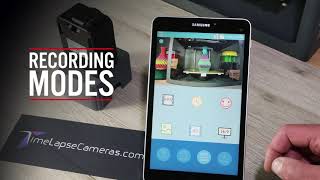 ---
My camera's LED is red (solid or flashing).
---
If your camera's batteries are low the LED will flash every 10 seconds. If you don't have an SD card installed the LED will be solid red.
---
My camera is not recording?
---
Typically there are two reasons you camera may not be recording. Most common your SD card is full, check the card level in the upper right of the app or the very handy information screen (i) icon in the top left of the preview window. https://www.youtube.com/watch?v=R8OYlvluAOA&t=410s

The other likely reason is you have selected the wrong recording mode, for example Snapshot which is for capturing a stop motion animating by pressing the power button to capture a frame. Please review the recording modes here, https://www.youtube.com/watch?v=R8OYlvluAOA&t=438s Lastly, we strongly suggest having the camera's buzzer on, the audible beep... beep when the recording has started is good piece of mind before walking away from the camera.
---
---
Footage
My preview is pink or I have a pink or odd color video.
---
If your preview or video are pink, chances are your camera was bumped hard or possibly dropped. Simply removing and replacing the battery cartridge should resolve the issue. If the problem persists and you have you cord handy. Connect the cord to your computer/power source, remove the battery carraige and power the camera up.

For odd color videos, chances are you have the wrong white balance setting selected. Please view this portion of our tutorial dealing with white balance settings.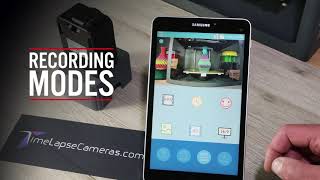 ---
My footage appears to flicker, why?
---
Afidus Cameras capture using an auto-exposure. Clouds can be especially challenging. Last time we checked there are no ways to prevent clouds from occuring. Rather than a constant capture, the camera has to assess the scene every time a frame is captured. A cloud over the sun may cause an exposure change which may appear to be dramatic given the time interval. Afidus has worked very hard to reduce the exposure flicker with firmware updates, please verify you have the latest firmware in the settings menu.

Changing light levels are challenging for DSLRs too. If your exposure is set for blue sky, when a cloud passes, it may be too dark. Please check your latest firmware to ensure that it is installed. This will hopefully give you better results, if not, there are third party software solutions which can help reduce time lapse flicker, we use this and we are happy to assist you with a clip or two. https://www.digitalanarchy.com/Flicker/main.html
---
Is there a third party software available to help with footage flicker?
---
We have used https://www.digitalanarchy.com/Flicker/main.html This is a process within video editing applications. Sometimes one pass will work well other times you may have to try several passes to reduce flicker.
---
Can the camera record individual JPGs for a timelapse?
---
At this time the camera records only in .mp4 format. The majority of our users want the simplicity of a final video and don't want to deal with individual frames. We wouldn't expect an individual photo option to be available in the future, however, Afidus is very receptive to customer input and we will share this request with them. If you desire individual frame control, many video editing programs will export frames as JPG. Be aware that the output of on 532 MB clip may be up to thousands of images to process. Individual frames might make a significant difference in quality of the final time lapse video, along with the ability to post process slight errors in the image (such as shaking or unexpected objects in occasional frames).
---
---
Basic Information
Where is my camera Serial Number?
---
The camera serial number is located on the bottom and the back sides of the camera. This is currently a series of ten numbers near a bar code.
---
How do I use the Image Alignment tool?
---
In the event you need to move the camera or it has been accidentally moved from the original location the Image Alignment tool is a handy feature to re-align with your previous posting location. We advise using this feature as one the camera setting checks in setting up your camera to have a complete record of your job.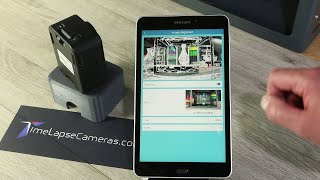 ---
What size card should you use?
---
Your camera ships from us with a 16GB card. The camera may accept cards up to 128GB, although not all manufacturer brands have been tested. In most cases, a 64GB will be more than enough for your monitored project. For most projects the 16GB card will work well. If you are running your camera for a longer duration i.e. longer than 2 months beyond the standard settings 1 minute capture interval recording from Monday-Friday from 7 am to 5pm and want the freedom without downloading your content please upgrade your card.
---
Can I view the images from your timelapse camera close-to-real-time? Remotely from my office? Or must I gather the images manually via the memory card to view/worth with them.
---
The Afidus camera is a great tool for capturing long term time lapse action on a budget. Remote access is something we have been working on with Afidus and eagerly looking forward to.

Remote access is typically not found in turn-key solutions until you get to the $3,000 - 5,000+ range or more, plus a monthly service fee.
If you don't require remote access, Afidus cameras are a low cost solution to cover multiple areas of your work site. Some of our customers use an Afidus for time lapse and security cameras for remote viewing. The Arlo Go seems to be the most popular choice. https://www.arlo.com/en-us/products/arlo-go/default.aspx

We are testing an Enlaps system which has great potential, but it has a definite learning curve. https://enlaps.io/?lang=en
I am happy to discuss your options options over a call, even if you are considering a solution from another source.
---
How do I download to phone?
---
There are times in the field when you may want to use the 'Download to Phone' feature of the Afidus Time Lapse camera system. I.e. When the action was too good not to share immediately on social media. Or when you need to immediate review the footage for a longer capture. Either way, this is a primer on the How to process.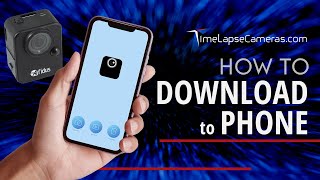 ---
What specifications and features are found within all the Afidus time lapse cameras?
---
Certainly, we have a handy comparison chart available for you to download. This PDF is linked to our supportive articles with in depth learning about this system. Link >>
---
---
Error Codes
Snapshot Receive Fail
---
The Snap Shot feature is a wonderful feature to use for aligning the camera back to the previous posting location in the event you need to change the batteries or the camera is bumped from it's original position. If you have an error which states, "Snapshot receive fail". One workround for this error is to set the image quality to 3, rather than 4 it works most of the time. Try the snap shot again. If it works then the photo will be stored on the camera card. If the snap shot receive fail still does not work please close the app with the quality set to 3 and try again. This is an issue Afidus is working to resolve. This temporary solution is not a guarantee, simply a workaround until a permanent fix is provided in a future firmware update.
---
ERROR: Please enter the correct value.
---
This happens when customer turn the custom days on but doesn't dial how many days continuously, there's two solutions: 1. Simply cancel the "custom days" 2. Dial how many continuous days user would like to record. You will receive this error code without a value set in the box. We don't see much of a use for this feature. It would come in handy if you had a week long project, but couldn't return to the camera for a month. You could set seven days and the camera would sop recording after a week, eliminating all of the additional files.
---
---
get to the know the system through our articles
Essential information for startup
YOU WILL HAVE QUESTIONS
WE'RE HERE TO HELP
Dive into learning about the camera at our full on-line user guide.
​
We continue to update this section as Afidus add new features with every update.